Sports Medicine Injuries
The most common types of sports medicine injuries include:
Sprains

Ligament tears

Tendon tears

Cartilage injuries

Joint instability

Muscle weakness
These types of injuries tend to occur due to the stop-and-go nature of sports and related activities. Additionally, years of repetitive motions involved in sports, such as golf, tennis and pickleball may result in degeneration and overuse injuries.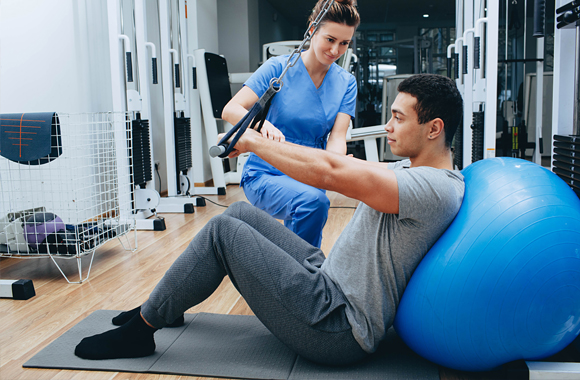 Sports Medicine Treatment Journey
Detailed Diagnostic Process
Each patient begins their treatment journey with a detailed diagnostic appointment to pinpoint the exact cause of their pain. This initial appointment may include:
Detailed medical history

Physical examination

Diagnostic tests like X-rays and MRIs
Conservative Care Methods
Non-surgical treatments such as physical therapy and anti-inflammatory medication are often prescribed as a first line of defense against sports medicine injuries. However, if symptoms do not improve, then more advanced treatment methods may be explored.
Orthopedic Treatments
In some cases, surgical treatment options may be the best way to get patients back to living a pain-free life. Our sports medicine physicians at Motion Orthopaedics are committed to helping patients restore optimal joint function and get back in the game.
Surgical treatments may include:
Arthroscopy

Tendon repair

Ligament reconstruction

Total joint replacement
Following surgery, exercise rehabilitation programs to strengthen muscles and joints around the treated area may be recommended. Physical therapy and a swift return to sport-specific activity may also be a necessary part of the recovery process to maintain muscle memory.
Full Motion Ahead
At Motion Orthopaedics, our team of specialized sports medicine providers understands how important it is to get you back to your optimal level of function as soon as possible. Let us help you get moving so you can enjoy all of life's adventures going forward.